Teeth Whitening and Bleaching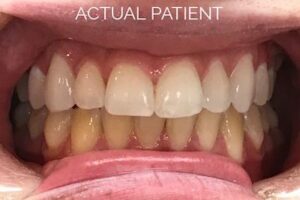 We respond to beauty, and we recoil from ugliness – it is just human behavior. Of course, we get over it, but still, it is there. And of course, you want to make the best possible impression on the people you meet, so if you have a discolored smile, the chances are that you would like to take measures to correct it. Dr. Eric Spellman can help you do just that. For superior teeth whitening result, Dr. Eric Spellman offers custom take-home trays.
Whitening Products
You have probably seen any number of advertisements for teeth whitening products. You've also probably seen some of those products in your favorite grocery or drug store.
Although these products are a bargain, the fact is, some of those whitening products that you find at your local store or bargain website, aren't all that good for your teeth.
If you want efficient, safe teeth whitening, your best course of action is to consult your dentist. A dentist will never suggest that you use anything harmful and dentists can offer whitening treatments that deliver results far superior to over-the-counter methods.
Opalescence® / Sinsational Smile
Dr. Eric Spellman recommends Sinsational Smile or Opalescence® whitening treatments for his patients in Larchmont who do not have the time or patience to wear custom trays. It is the brand most preferred by dentists, and you can have the treatment done in-office.
Sinsational Smile® uses effective technology that works in 20 minutes with the use of pre-filled silicone trays. This in-office treatment allows patients to whiten their teeth in comfort with a relaxed jaw. This treatment is economical and will usually give several shades of whitening. Sinsational Smile® is for people who quickly want to brighten their smile. Dr. Spellman recommends repeating this process twice a year after every cleaning to prevent fading.
Opalescence Xtra® Boost is an in-office treatment that contains a 38% hydrogen peroxide solution. The procedure takes about 60 minutes, and you can expect a slightly brighter result than Sinsational Smile, but the process takes longer.
Teeth Whitening Benefits
If you're dissatisfied with yellowish or otherwise discolored teeth, in-home custom fabricated trays, Sinsational Smile®, or Opalescence® whitening treatments can help to improve your smile. Dr. Eric Spellman can help patients in the Larchmont area to get the dazzling smile they want and deserve with Sinsational Smile® and Opalescence® treatments in the office.
Don't settle for lackluster teeth when you can benefit from the best cosmetic dentistry treatment on the market today. Call Dr. Spellman at (914) 315-4446 to get the bright smile you want. We also treat teeth whitening patients in Mamaroneck, Harrison, New Rochelle, Scarsdale, Rye, and surrounding areas.
Eric Spellman, DMD
16 N. Chatsworth Ave
Larchmont, New York 10538
Phone: (914) 315-4446
CEREC Same-Day Dental Crowns
Request A Personalized Consultation Today!