BENEFITS OF PORCELAIN VENEERS?
Benefits of Porcelain Veneers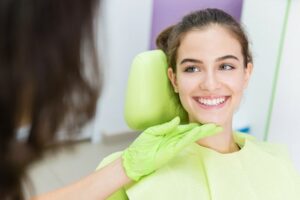 Revive the look and functionality of your smile with porcelain veneers from Eric Spellman, DMD. We provide general and cosmetic dentistry in Larchmont, NY. Our services ensure that you can receive the utmost benefits of
porcelain veneers
. With veneers, you are able to both protect and cover your current teeth and gums for a more efficient smile makeover. Find out more about these benefits to discover how much our cosmetic dentistry can change your smile for the better.
Improve Your Smile
The ultimate benefit of having porcelain veneers designed by a professional cosmetic dentist is to have a more attractive smile. Veneers made from porcelain are custom-made to match the rest of your teeth in color. Furthermore, the porcelain material is also long-lasting and durable. You can live your life without having to worry whether the veneer will come off. A porcelain veneer is also stain resistant so you can rest assured that your dental treatment will last for years. Let our dental office,
Eric Spellman, DMD
, in Larchmont, NY assist you with improving your smile with dental care.
Enjoy Better Oral Health
Along with improving the way you look, a specialist can provide you with individual tooth treatments for optimal oral health care overall. Using porcelain veneers you can correct and cover chipped or cracked teeth. In addition, the veneers help protect against future dental damage. You are also going to reduce and hopefully eliminate any pain associated with crooked or chipped teeth. After all, when you have chipped or broken teeth, this reveals the root endings. This often leads to intensive chronic pain as you suffer from unprotected teeth. Save your teeth including damaged teeth with the use of veneers made of porcelain. Reduce discomfort and protect against tooth decay and oral pain with porcelain veneers in Larchmont, NY. This can also help you save money in the long run on oral health care. Choose veneers as part of your preventative dental services today.
Choose Porcelain Veneers in Larchmont, NY
Here at the dental office of Dr. Eric Spellman, we offer porcelain veneers in Larchmont, NY. The services include partial and full dentures, dental implants, and Invisalign clear braces. By providing comprehensive services for dental customers here in our office, we also help you save time and money. Choose a dental specialist near you to start seeing the benefits of porcelain veneers. To get moving with your dental work today, contact Dr. Spellman at 914-315-4446 to schedule an appointment.